News
Feedback from participants and visitors to the Russian Health Care Week 2017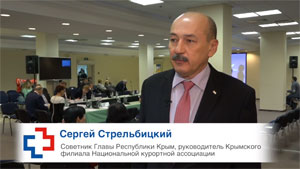 Sergey Strelbitsky, Advisor to the Head of the Republic of Crimea, Head of the Crimean branch of the National Spa Association:
- For the first time the Russian Health Care Week represents health and spa resorts. Very interesting events, which are useful for development of our industry, are held here. First of all, it's promotion of our health and spa products and attraction of investments in this field. Health and spa resorts are crucial for Crimea and have always been important. Health and spa resorts allow Crimea working all year round.
We didn't lose the techniques and medical programs which had been developed over decades. We're ready to share our achievements with our colleagues from other regions as well as to acquire the best things which exist in the industry for today. Health and spa resorts play a significant role in our people's craving for healthy style.
The trade shows, forums and round tables, which are held here, facilitate the exchange of opinions and development of key areas of promotion. It's very important for us because people know about the services provided on the Crimean Peninsula not enough. I'm sure there's a lack of awareness of other regions having unique health and spa facilities.
---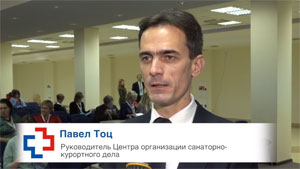 Pavel Tots, Head of Centre for Organisation of Health and Spa Business:
- The Conference of Relevant Issues of Health and Spa Business within the Russian Health Care Week is the first event devoted to health resort treatment. It is symbolic that MedTravelExpo is held when we celebrate the 300th anniversary of the health resort business in Russia. The integration of health resort treatment into pathology treatment programs allows increasing its effectiveness, reducing probability of development of serious complications two or three fold, reducing the number of medicines and increasing duration of active life by 10-15 years on the average.
Health resort and health care workers are brought together on the platform to understand each other better. Hospital, clinic and health resort constitute a unified system to implement medical preventive facilities aimed to maintain health of our people. As a rule, health resort treatment is on the borderline with such disciplines as tourism and medical assistance. I would like to say thank you to the organizers because they place much emphasis to this area of medical science. We believe that the number of health resorts participating in the Russian Health Care Week will grow on a multidisciplinary and multisectoral basis and, probably, with foreign participants.
---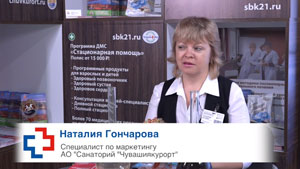 Nataliya Goncharova, Marketing Specialist, Chuvashiakurort Spa Resort:
- Chuvashiakurort Spa Resort is located in the unpolluted area of Cheboksary. Two natural factors of our spa resort are chloride sodium mineral water and sapropel mud. We've decided to organize our own stand at MedTravelExpo to promote our company to regions. We opened the departments of neurorehabilitation and cardiac rehabilitation, the third recovery phase after heart attacks and strokes. Not all spa resorts offer such services. Visitors attend our stand, show their interest and ask different questions.
MedTravelExpo was well-organized. We were welcomed and well-received. I'd like to say thank you to the organizers. Everything was at a high level.
---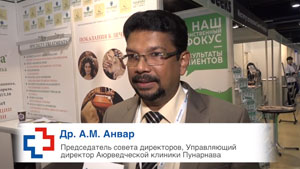 Dr. A.M. Anvar, Chairman and Managing Director, Punarnava Ayurveda Hospital:

- I'm from Punarnava Ayurveda, Kerala, south part of India. We came to MedTravelExpo because a lot of Russian people are more aware of Ayurveda and more aware of their health. So, we want to maintain their health. Ayurveda is a natural way of living. Russian people are looking for a more natural way of living. We want to promote Ayurveda system and Indian culture and, of course, Panurnava Ayurveda Hospital. For years India and Russia have been good friends. Now we are in BRICS Association (Brazil, Russia, India and China). So, the government is very helpful and open to us.
We also plan to start investing here in Russia. Of course, we get agents to promote medical tour and Ayurveda tour and health tours. We get a lot of doctors interested in Ayurveda. And we get individuals and senior persons looking for Ayurveda and maintaining their health. Very good response. It's the third day now. A lot of people came to us and we are going to take it forward.
This is a very big event. Here are lot of people and a lot of possibilities. We're very happy here. It's a well-organized event. Thanks to the organisers. Definitely, I am going to be a regular participant in this event.
---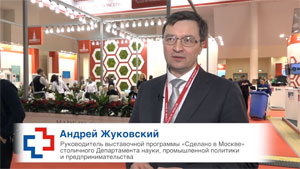 Andrey Zhukovsky, Head of the Made in Moscow exhibition program of the Moscow Department of Science, Industrial Policy and Entrepreneurship:
- We've arranged a group stand of Moscow manufacturers under the brand "Made in Moscow" in the field of health care at Expocentre for the second time. We first participated in the Zdravookhraneniye exhibition a year ago. Last year we rented 246 sq m and 25 exhibitors. Now our stand occupies 370 sq m. Thirty-six Moscow manufacturers showcase their products there. We increase the exhibition space because our participation is effective. A trade show is a marketing channel meant for manufacturers who need distributors and buyers. I believe about a thousand of meetings will be held in the business meeting zone within five days of the exhibition. Many of them were scheduled in advance. We hope to sign a lot of contracts.
Zdravookhraneniye is the best health care exhibition in Russia and a very effective marketing tool.
---
Alexander Dolgov, Head of Marketing and Sales Department, Trading House Delrus-Dez:
- We've participated in the Zdravookhraneniye exhibition under the aegis of the Foundation for Business Support of the Republic of Tatarstan for the third year. Each edition is productive for us. We find new partners from Russian regions and neighbouring countries. The trade show runs at rather high level. Here're many visitors. Yesterday we welcomed representatives of Far East, today - East and West Siberia and former republics of the Soviet Union.
Our stand grows year by year as well as manufacturing companies of the Republic of Tatarstan.
---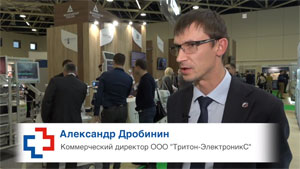 Alexander Drobinin, Sales Director, Triton-ElectronicS:
- We've participated in the trade show for over ten years. This year we participate with the group stand organized by the Russian Ministry of Industry and Trade and we are very glad. Right now we localize our production and create an anesthetic breathing apparatus and integrate our modules developed by our company within the federal target program of the Russian Ministry of Industry and Trade. These modules have been integrated in the equipment of six Russian and three European manufacturing companies. We also actively develop high technology exports.
The Zdravookhraneniye exhibition has enjoyed the reputation of an annual key event for many years. Here we sum up the results of the year. We have a strategic planning cycle where we make plans for the next 15 years. But there's no other way in our business. That's why feedback from customers is essential to us. In this regard the trade show is valuable for us.
---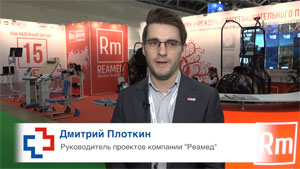 Dmitry Plotkin, Project Head, Reamed:
- Our company has participated in the Zdravookhraneniye exhibition for many years. It is an event where we sum up the results of our work for a year. Our product range expands every year. This time we showcase a very interesting device for neuro physical training. This equipment is one-of-a-kind for functional rehabilitation after strokes, paresis and such diseases as ICP. We strive to show these devices to as many people as possible for them to know which new products are presented in our field.
---
print version