/

/

Interlakokraska 2018: feedback from exhibitors and visitors
subscribe to news

Interlakokraska 2018: feedback from exhibitors and visitors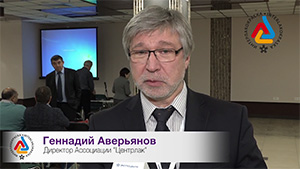 Gennady Averyanov, Director, Centrlack Association
"Our Association participates in Photonics every year. In our opinion, the trade show is improving year by year. The organizers have conducted a very good advertising campaign and we would like to thank Expocentre for it. It is an opportunity for us to discuss the most relevant issues which have been raised for a year and concern the current state of the paint and coating industry. At the meeting which annually runs at the trade show we'll discuss the project of the Photonics Roadmap until 2025. We hope this platform will allow coming up with the solutions which will ensure sustainable development of the industry."
---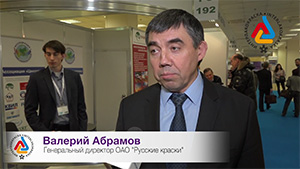 Valery Abramov, General Direсtor, Russian Coating Corp.
"Interlakokraska is a networking place which brings together a lot of partners who try to initiate something new for development and for the market. We attended the stands of raw material suppliers featuring products which were new even for us. Today at the trade show we were surprised by large-scale stands of paint and coating manufacturers which have not exhibited for a long time. It is a message to others, especially new market players, that it's a must-attend event to prove yourself and show yourself."
---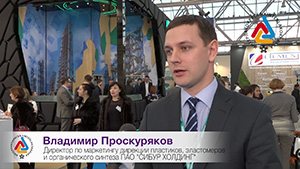 Vladimir Proskuryakov, Marketing Director of Plastics, Elastomers and Organic Synthesis Division, Sibur
"Our company has participated in the Interlakokraska exhibition for five years. Our stands become larger and more beautiful for a simple reason: from year to year we have more and more meetings with our business partners at the trade show. That's why we pay more attention to participation in this event. Our visitors are mainly visitors from Russian regions, companies from neighbouring countries, and representatives of European and Turkish companies that are our long-standing partners and those whom we have met at this trade show for the first time. We hold several meetings concurrently. Every year we generate more and more leads. For us the trade show is a platform where we network with our customers, sum up the results of our work for a year, we share our plans for the current season since the trade show runs at the beginning of the season. We plan our participation in the next edition."
---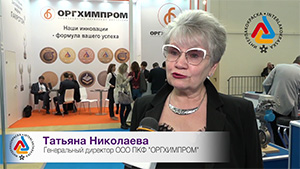 Tatyana Nikolaeva, General Director, Orgchimprom Production and Commercial Company
"We've exhibited since our company has been founded because we search for customers here and develop our working portfolio. We've developed it thanks to these trade shows. Now we think that it's necessary to maintain the company image and good relations with our customers and sign contracts. This trade show is very effective."
---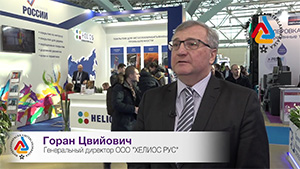 Goran Cvijovic, General Director, Helios Rus (Slovenia/Japan)
"Over the last three years our company has been a regular participant in the trade show. Every year we convey a kind of message to the market and to our customers. For example, that we are engaged not only in importing materials but also have a plant in Russia which is now completely localized for production of paints and coatings for metal and road marking. Over the past two years we managed to double our sales. Production in Russia has increased four-fold. For the four days of the exhibition we try to present ourselves to the customers who know us already and tp potential customers. Interlakokraska is a field-specific show and we think that for us, as a global manufacturer, it is a must-attend event. Despite the turbulence on the market and in the exhibition business it seemed to us that Interlakokraska will continue to be the main."
---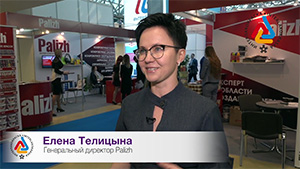 Elena Telitsyna, General Director, Palizh
"Our company is a long-standing participant of the Interlakokraska exhibition. Our participation in this trade show is effective. We understand that it's a good negotiating venue and a great opportunity to learn from our customers about their plans and develop further policy on relations. Interlakokraska is the trade show which brings together most of our customers. Last year we decided to take an active part in the Interlakokraska supporting events where we would like to bring our information to existing and potential customers which do not know about us yet.
This year we participate with two stands since our company develops two directions which are closely connected but the customers are different. The trade show is attended by our target visitors. They are product engineers and company CEOs. The geography of visitors is rather wide. Our stand is regularly attended by representatives from Russia and neighbouring countries.
The level of the services provided is growing; they're useful. It refers to preliminary preparation in particular, and I would like to say thank you to the organizers. There were no problems with delivery of equipment to the trade show. A great advantage is a convenient location of Expocentre Fairgrounds in the centre of Moscow where you can get very easily."
---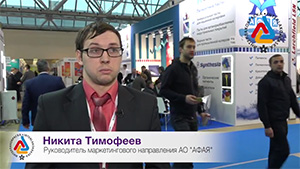 Nikita Timofeev, Head of Marketing Department, Afaya
"For us, regular participants, Interlakokraska is a tool to maintain company image, network with customers, and promote our new products. For the second year in a row we have a large stand. Our visitors are big players and market leaders. We and our partners are satisfied with the trade show. Everybody has already got used to this major industry event. It's a must-attend event for both customers and suppliers."
---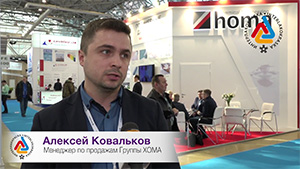 Aleksey Kovalkov, Sales Manager, HOMA Group.
"We take part in the trade show every year. It's a long standing tradition. We participate to attract new partners and foster links with regular ones. My colleagues tool part in the conference which was part of supporting events. The trade show is not only a tool to search for partners but also an opportunity present oneself. Generally, our participation in the trade show is effective: we've reached our goals. Thanks to Expocentre everything was organized was very well, as always. We feel at home here since here is a favourable atmosphere for effective networking."