/

/

Lesdrevmash 2018: Exhibitor Feedback
subscribe to news

Lesdrevmash 2018: Exhibitor Feedback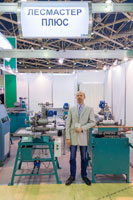 ---
Andrey Mamaev, Head Engineer, Lesmaster Plus (Kirov, Russia)
"We manufacture tool grinding machinery for woodworking companies. We have brought the whole range of our machine-tools to Lesdrevmash. I believe you can do it once every two years. It is our fourth time here. We are trying not to miss it. We have to show our accomplishments, find new customers and meet old ones. This year there are about as many people as it was two year ago. Our clients can find us here. We don't regret taking part in it. We build our image here, and we are going to participate again."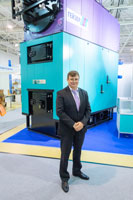 ---
Sergey Arefiev, Managing Partner, Kovrovskye Kotly (Kovrov, Russia)
"We have been in the market for almost 20 years. The first time we took part in Lesdrevmash was in 2002. Since that day we have taken part in every edition. We believe it is the largest event in our industry. It brings together the largest number of participants.
The main products we manufacture are hot water boilers. We brought one of them here. It is a premium category boiler which is fully automated. It adjusts itself to different types of fuel, and cleans itself both inside and outside. Hopefully, it will find buyers. We sell our products in 60 regions of Russia and export it to Ukraine, Belarus, Kazakhstan and even Indonesia.
Our average purchase amount is ten million rubles. A great deal of work has to be done so that the customer spends this kind of money. One has to agree on both economic and technological issues. That is why an easy chain of "I came – I saw – I bought" can't happen in our business. It takes months to make a final decision. It means that our participation in this show is mostly image building. People want to see real machinery not posters.
There are a lot of visitors. Three or four of our managers are always having some talks at our stand. As for my own personal impression, I can say that today, on the second day of the trade show, I still haven't got time to have a lunch."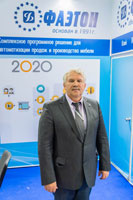 ---
Viktor Shmakov, CEO, Faeton (Saint Petersburg, Russia)
"We sell equipment, materials and software to furniture and woodworking companies. We have been in this market for 28 years. We have participated in Lesdrevmash since 1993. This year there are more visitors than at the previous edition. You can feel the market is growing. Hopefully, everyone has adapted to sanctions."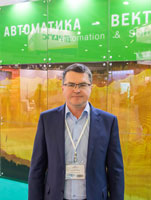 ---
Aleksandr Konovalov, Head Engineer, Avtomatika-Vektor (Arkhangelsk, Russia)
"Our company is specializing in automation for the timber industry in particular for lumber grading lines, lumber sawing and sorting of sawn timber. It is our 11th time at Lesdrevmash. This year we have a different approach to participation. We didn't bring machine-tools but have more conference tables at our stand. We mostly meet our old clients with whom we had some projects before. Now we are planning new projects with them. There are less new clients at trade shows now. New meetings have moved online in our industry. The trade show has become a place for face-to-face meetings.
We will continue participating in Lesdrevmash to keep up with new developments. That's our intent."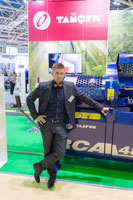 ---
Peter Gracner, Head of Representative Office, Tajfun Rus (Slovenia)
"Our company is about 50 years old. A representative office in Russia was opened in 2008. In that same year we started participating in Lesdrevmash. We are selling machinery and equipment all over Russia. We have brought the most state-of-the-art equipment this year including a machine-tool which saws and splits logs automatically in a couple of seconds. It is one of the fastest machine-tools in the world.
We don't have much competition. Our brand has become well-known in Russia, and there are many people who come to our stand. There could have been even more but our customers live not only in Moscow but all over Russia, everywhere where they harvest timber.
We will definitely come back. People have to see that we are alive and we are."