/

/

Feedback of Inlegmash 2019 participants: the trade show represents interests of manufacturers and customers
subscribe to news

Feedback of Inlegmash 2019 participants: the trade show represents interests of manufacturers and customers
The Inlegmash 2018 international exhibition, that ran at Expocentre Fairgrounds on March 19-22 within the Russian Textile Week, triggered great response in the professional community. This is what our participants and visitors say.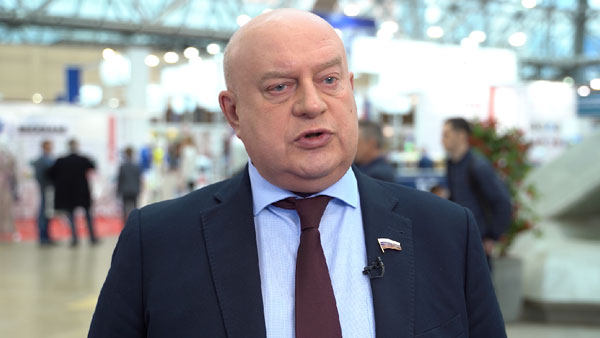 Aleksey Khokhlov, Deputy of the State Duma of the Federal Assembly (Russia)
"The Inlegmash exhibition represents interests of manufacturers and customers of textile equipment. It is particularly important because the show runs along with the Techtextil Russia Exhibition for Technical Textiles. Today, Russia witnesses withdrawing from traditional cotton weaving to technical fibres, production of complex technical textiles, and introduction of new types of equipment and technology. It is a pleasure to see the latest samples of such equipment at the trade show as well as manufacturers and customers of new kinds of fibres.
"The Week unites several trade shows which are technologically connected. That is just the thing. The Russian Textile Week and the textile industry have a future. We should develop them. Inlegmash is also important because the Internet cannot replace alive relationship and an opportunity to touch this or that equipment or product.
"I am also glad to be at Expocentre celebrating its 60th anniversary this year. Expocentre has a unique history and keeps on introducing the most advanced ideas, technologies and equipment. Throughout its history Expocentre was always very progressive.
"Expocentre has a tremendous advantage. Unlike other trade show centres, here one can showcase anything from missile hardware to textile. Energy consumption, exhibition space and hoisting mechanisms are appropriate here. I think Expocentre will faithfully serve Russia more than a decade."
---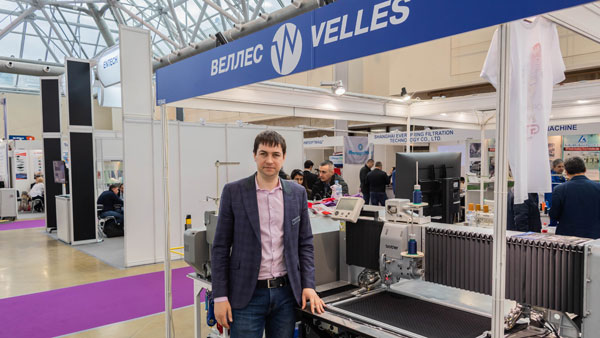 Svyatoslav Antsiferov, Head of Equipment for Textile Industry Department, VELLES Group
"We have participated in Inlegmash for a long time. For us it was as effective as possible. Today, there are many participants from the former Soviet republics. We networked with representatives of Kazakhstan, Moldova, Georgia, and Kyrgyzstan. The second important moment for us is that people are particularly interested in automation. At our stand we present Japanese textile printers "Brother" as an example of the solution to footwear assembling from stitching of uppers to its assembly on two machines that can sew according to the templates.
"This year we also take part in the Inlegmash supporting events with our partners' presentations and direct printing technologies. We hope the trade show will be effective for us because it is interesting for manufacturers. A great advantage for us at Inlegmash is free-of-charge handling encouraging us to bring heavy large-scale machines and display them to advantage."
---
Yury Yefremov, Director General, Textile and Technology OOO
"Our company was founded in 2015 and has participated in Inlegmash since its founding. We are satisfied with the trade show, its management, and the services provided. A company like ours can bring equipment to the trade show, launch it in one day and show it in the best possible way. Expocentre is our favorite trade show platform in Moscow.
"This platform is the most thought-out in terms of logistics. Here is a metro station nearby and a well-organised parking of passenger cars and trucks. The proximity to the centre of Moscow allows many customers coming from other regions to get to the place quickly. Besides, the Forum pavilion, where the trade show is located, has a cone-shaped dome which dampens noise and echo effect and allows operating noisy equipment. It is a comfortable place with much air and light. In our opinion, it is the best pavilion in Russia. We are glad it is upgraded. That gives us confidence that in 10 or 20 years we will be able to show our equipment in comfortable conditions for us and our customers."
---
Erna Barkans, Marketing and Development Director of Knit
"Being one of the industry leaders, our company thinks that the Inlegmash trade show and the Russian Textile Week are key events of the Russian textile industry. We are a long-term participant in Inlegmash. The trade show is focused on industry experts. Here one can always find out interesting information, meet colleagues, share new trends, and present novelties in production automation. I think the trade show is crucial for the textile industry development.
"At each trade show we pay great attention to the supporting program that is action-packed and interesting for professionals. Speaking about textile and garment industry, we should not forget about the development of areas requiring support. One of the industry challenges is a lack of skilled personnel. That is why the topic of automation is very important for our industry. The participants try to optimise their production and we seek to help each customer.
"The geography profile of our participants is unique and is not limited to Russia. We collaborate with representatives of nearly all members of the Customs Union. Here you can meet visitors from every corner of our country from Vladivostok to Kaliningrad, representatives of Kazakhstan, Armenia, Belarus, Tajikistan, and Turkey. It appears that Inlegmash brings together the countries of the Customs Union, the CIS, and other foreign counties.
"The organisation level of the trade show is very high. We take part in many trade shows. But only the Inlegmash exhibition space is organised in such a comfortable way. The management of the trade show is great. I wish Inlegmash further development."
---
Dmitry Vinogradov, Sales Department Specialist at Zund and Marina Gusynina, Marketing Department Specialist at Zund (OktoPrint Service OOO)
"If to assess the Inlegmash results, it is really good. We have generated a lot of business leads. We did not expect that the number of new contacts will exceed a hundred over two first days. It is a good figure.
"We showcase cutting equipment combined with the software attracting customers. We have arranged a show room at Inlegmash and the more people will see it the more new customers we will have. We demonstrate our equipment in operation at the trade show. A person needs to see and touch. The more participants, the more interesting it is. Expocentre provides ample opportunities for showcasing. It is the most attended platform."