/

/

Metalloobrabotka ranked high among foreign industry associations
subscribe to news

Metalloobrabotka ranked high among foreign industry associations
The 19th edition of the Metalloobrabotka international exhibition, which ran last week at Expocentre Fairgrounds, generated a lot of interest and positive feedback of leading foreign associations which took part in the event.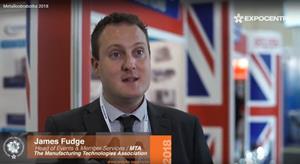 James Fudge, Head of Events & Member Services, MTA – the Manufacturing Technologies Association (UK)
"It's the first time we've ever had a UK pavilion here. It seems to be very good. It's the one show in Russia that we always come to. We get the right sort of visitors come through here. We are hoping that we get a few people coming over the next few days."
---
Klaus-Peter Kuhnmunch, Manager of General Affairs, VDW – the German Machine Tool Builders' Association
"Russia is a very important and huge market for us. We are very proud that so many companies are here at this year's Metalloobrabotka. Of course we hope that all of our companies, which mostly are our members, make good business Russia."
---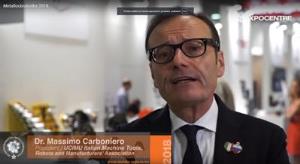 Massimo Carboniero, President, UCIMU – the Italian Machine Tools, Robots and Manufacturers' Association
"We are very glad to be here today at this very important exhibition – Metalloobrabotka. For us the Russian market is a very important market. Russia is the third country for Italian machine tool manufacturers to export products. I have a very good forecast for this market because I know that in this moment the Russian market needs new machines, new technology."
---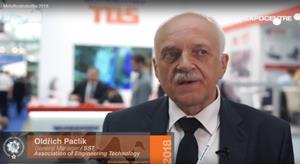 Oldrich Paclik, General Manager, SST – the Association of Engineering Technologies (Czechia)
"Metalloobrabotka is the most important event in Russia for our exhibitors. We cooperate with the company Expocentre, and our cooperation is excellent. We are satisfied with the position of our stand and also with all services that Expocentre offers to our partners."
---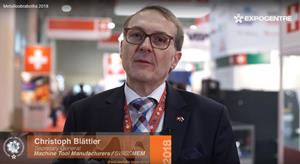 Christoph Blattler, Secretary General, Machine Tool Manufacturers/SWISSMEM
"It is very important for many of these people to be here, to have this opportunity and to count on the excellent facility that Expocentre has generated here in the centre of Moscow. I would like to thank everybody who is responsible for this show for their effort, and we will be here for sure next year again."
---
***
Metalloobrabotka 2018 had national and group pavilions organized by MTA (UK), VDW (Germany), SWISSMEM (Switzerland), SST (Czechia), UCIMU (Italy), TAMI (China, Taiwan), Business France – the Trade and Investment Office of the Embassy of France in Russia (France), Ministry of Industry of the Republic of Belarus (Belarus).
Active participants also included machine building associations КОММА (South Korea), MIB (Turkey), JMTBA (Japan), AFM (Spain), TMBA (Taiwan), TIAD (Turkey). Overall the show welcomed more than 1,000 companies from 33 countries.
See a video report at https://www.youtube.com/watch?v=TlSq2NvJ0Ws
Press Service, Expocentre AO