/

/

Mir Detstva 2018 and CJF – Child and Junior Fashion 2018. Autumn: participant and visitor feedback
subscribe to news

Mir Detstva 2018 and CJF – Child and Junior Fashion 2018. Autumn: participant and visitor feedback
The Mir Detstva 2018 and CJF – Child and Junior Fashion 2018. Autumn international exhibitions ran on September 25–28, 2018, at Expocentre Fairgrounds. Both events were widely welcomed by the professional community.
Gulnaz Kadyrova, Russian Deputy Minister of Industry and Trade
"We really like Expocentre Fairgrounds because its events are always very professionally managed. The increase in the number of exhibitors and presented countries shows that our colleagues like to come and work here, exchange opinions and discuss challenges facing the industry. Here we sum up the results of the past year and plan how we are going to work with manufacturers in the coming year. We have tasked manufacturers with introducing new developments showcased at Mir Detstva faster."
---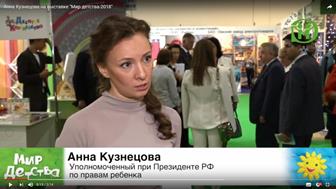 Anna Kuznetsova, Russian Presidential Commissioner for Children's Rights
"This event has a wonderful atmosphere of childhood. But it is very important to look behind exhibition festivities to see real problems which the children's industry is facing today. It is a very good platform to not only talk about them but also look for solutions for such issues, for instance, as the lack of goods for teenagers."
---
Svetlana Zhurova, First Deputy Chairman of the Russian State Duma Committee on International Affairs
"I have been taking part in the opening ceremony of this wonderful exhibition for many years. Every year I am amazed with new goods which are created in every sector of the children's industry. As a co-chairperson of the Supervisory Board of the Children's Industry, I find it very important to see not only products brought from abroad but also our local brands which compete with those foreign goods. The exhibition shows our citizens that we have the children's industry of our own. Mir Detstva is an evaluation criterion for Russian manufacturers."
---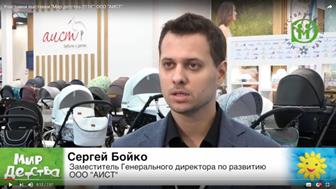 Sergey Boiko, Deputy Director General for Business Development, Aist
"Mir Detstva is a great opportunity to show our new products and stand out among the competition. We have made a decision not to cut corners when building our stand but to make it beautiful and presentable. It shows the visitors, both wholesalers and retailers, that we are growing. Our clients come to see us from all over the country. Yesterday, we talked to visitors from Vladivostok and Novosibirsk. Besides, we met people from Kazakhstan and Belarus. People from other countries are also interested in our products. We have doubled in size since the last year. We now have new facilities and new brands. Next year we will be back to Expocentre Fairgrounds."
---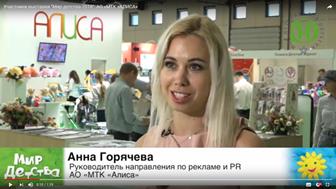 Anna Goryacheva, Head of Advertising and PR, Alisa ITS
"Alisa has been taking part in Mir Detstva for more than 15 years. Our clients have come to see us from all over Russia. More than 20 of our new projects are very popular. They are related to makeup, nail polish, plushies and robotic toys. That is why we have a large stand which is very favourably located. We are not going to stop here. Next year we will present even more projects, and our stand will be even more interesting."
---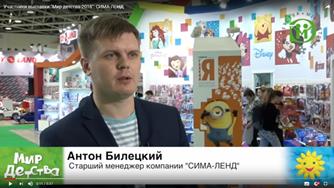 Anton Biletsky, Senior Manager, Sima-Land
"We've been participating in Mir Detstva every year since 2013. We started with a stand of 30-40 sq m. Today our stand occupies about 200 sq m. I think we will grow even more in the future. Here we get contacts and increase our assortment. Every year our loyal customers come to see our new products here. We talk about future cooperation. New customers also come to our stand. Traffic is great here. We are very satisfied with this edition of the show."
---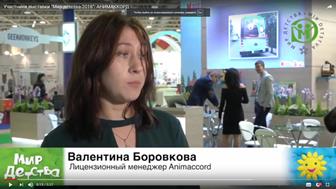 Valentina Borovkova, Licensing Manager, Animaccord
"Animaccord has been a regular participant in Mir Detstva since 2016. At first we wanted to show the success of the Masha and the Bear brand in Russia and the CIS and demonstrate products of our licensees. This year we have changed this concept because Masha and the Bear have become a global brand and is known all over the world. At Mir Detstva we always meet our partners to discuss our current cooperation and future projects. We also have many partners licensees from the CIS who visit our stand. Mir Detstva gives them an opportunity to learn more about our latest news and accomplishments and sign new deals. We expect great results from this year's edition."
---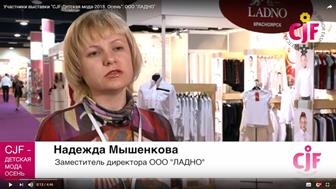 Nadezhda Myshenkova, Deputy Director, Ladno
"It is our fourth time at CJF. We exhibit twice a year, at both Spring and Autumn editions. It helps us to have more customers. At the show we get new contacts. Some of them turn into large shipments. Our visitors come from many different places. Mostly they are Russian, but we also have many foreign visitors. As of right now, we have gotten the contacts we expected to get."
---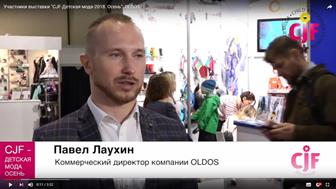 Pavel Laukhin, Commercial Director, OLDOS
"We are satisfied with our participation in CJF every year. This time we show our new collection of outdoor clothes, new thermal underwear, hats, boots, and workout clothes. Here we get orders for the next season, and meet new clients and partners. As a rule, entrepreneurs who come to our stand already have their own stores for children. They are looking for something new, something which meets the current demands, technologies and trends. Every year the show's infrastructure gets better. We feel very comfortable here and can show our company in the best possible way. Currently, CJF is the best and most successful exhibition for us."
---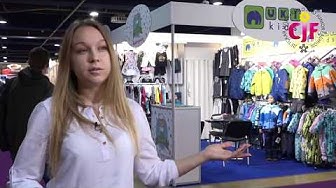 Svetlana Kopeikina, Regional Manager, April Group
"It is our second time here. We work with companies from all over Russia and the CIS countries. Our visitors were from all regions. We sell wholesale via Internet. Here at the show wholesale buyers, especially from distant regions, can see and compare products before making an order. We will be happy to take part in the next edition of CJF to show our new collections."
---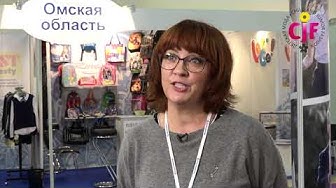 Galina Danilova, Commercial Director, Omskie Shvei
"We were invited to CJF by the Export Support Association as part of a group showcase. We present small and medium enterprises from the Omsk region. They make clothes and accessories for children and teenagers. Our aim is to increase sales. It is our first time here. Our visitors have come not only from Moscow and the Moscow region but even from Siberia. We had a lot of work over all exhibition days. It was very comfortable. I'd like wish Expocentre to grow and attract more exhibitors from more regions."
---